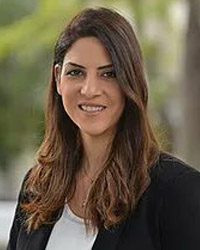 Dr. Rostamian is a licensed clinical psychologist (PSY25134) specializing in psychoeducational, neurodevelopmental, and neuropsychological assessment of children, adolescents, and young adults. At Capstone Psychological Services, Dr. Rostamian provides comprehensive assessment services such as psychoeducational and psychological assessments for the purposes of Independent Educational Evaluations (IEE's) and Educationally Related Intensive Counseling Services (ERICS) evaluations.
Dr. Rostamian earned her doctoral degree in Clinical Psychology with an emphasis in Pediatric Health Psychology and Neuropsychology from Loma Linda University in 2010. She completed a Pre-Doctoral internship at Primary Children's Medical Center in Salt Lake City, Utah where she gained valuable experience providing therapy, consultation, and neuropsychological assessment services to a diverse medically fragile pediatric population.
Dr. Rostamian then continued her training as a Post-Doctoral Fellow at Kaiser Permanente in Roseville, California. There she received specialized training in pediatric, adult, and geriatric neuropsychological evaluations, and post-concussion assessment and monitoring.
Dr. Rostamian then provided pediatric psychology and neuropsychology services at Loma Linda University (LLU) Health and Children's Hospital as an Assistant Clinical Professor in the Department of Pediatrics for several years. Thereafter, Dr. Rostamian switched her professional focus to private practice where she was able to more fully meet the needs of students undergoing academic difficulties focusing on providing psychoeducational assessments in addition to neuropsychological and neurodevelopmental evaluations.
Dr. Rostamian specializes in the evaluation of individuals with various medical, psychiatric, and learning concerns including learning differences, Autism Spectrum Disorder, Attention Deficit Hyperactivity Disorder, Epilepsy, traumatic brain injury, brain tumor, the effects of substance and oncological treatments, rare genetic and congenital conditions, mood disorders, anxiety disorders, and disruptive behavior disorders. Dr. Rostamian also specializes in neurodevelopmental evaluations of infants and toddlers with in-utero substance exposure, and other causes of developmental delay.